The Eatwell Guide
Web Resource
Last Updated: 19-12-2019
The Eatwell Guide illustrates the proportions of different types of foods that you should eat, not the amount or portion size. The amount of food you eat will depend on factors such as your age, your gender, how active you are and the goals you are trying to achieve, e.g. weight loss.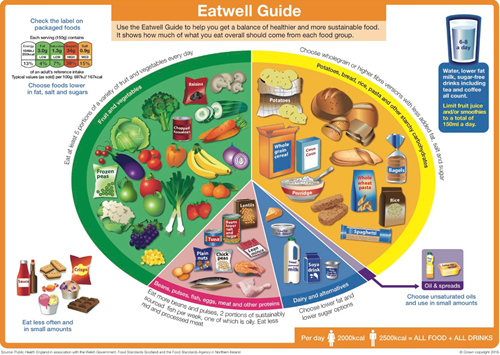 The main points to bear in mind are these:
Eat at least five portions of a variety of fruit and vegetables every day.
Base meals on potatoes, bread, rice, pasta or other starchy carbohydrates, choosing wholegrain versions where possible.
Have some dairy or dairy alternatives (such as soya drinks), choosing lower-fat and lower-sugar options.
Eat some beans, pulses, fish, eggs, meat and other proteins (including two portions of fish every week, one of which should be oily).
Choose unsaturated oils and spreads and eat these in small amounts.
Drink six to eight cups or glasses of fluid a day.
If consuming foods and drinks high in fat, salt or sugar, have them less often and in small amounts.
More detailed information on each of these food groups can be accessed below:
If you have any questions or feedback about this resource, then please fill out the feedback form.